Welcome. The Millennium Stars School & College, Rangpur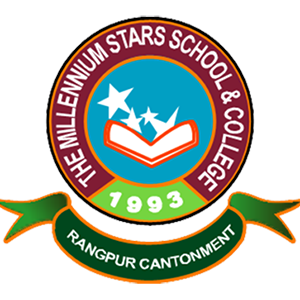 The Millennium Stars School and College started its journey on 23rd January 1993 with Play, Nursery, KG-I and KG-II classes and its previous name was Cantonment Public School and College (English Medium). The present academic building was established on 19th February 1998. It was re-named as The Millennium Stars in 2000. Gradually it was extended up to class ten and the students appeared for the first time at SSC examination in 2006. In the same Year College section was opened and the first batch appeared at HSC examination in 2008. This institution got the registration of School section in 2008 and College section in 2014 from Dinajpur Board and since then students are appearing at SSC and HSC examination under the name of The Millennium Stars School and College. 
...Read More
Today's Wisdom Words
Never judge someone based on the opinion of others.

Dreams don't work unless you do.

"A teacher is one who helps others and influences lives forever."

"All teachers teach history to those who will make history."

"A good teacher is a good student first. By repeating lessons, teacher acquires excellence."

"The amount of good values that students learn in school depends on how good of a role model their teachers are."

"God designed the family as the place where children learn and grow. That means that all the parents are the teachers."